Maritime English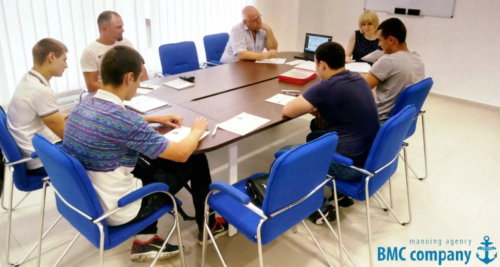 To be competitive and to be safe at sea you need to be able to communicate effectively in English. BMC Company provides Maritime English Course that has been specifically designed for seafarers or future seafarers. The course is organized in groups according to the initial level of English proficiency of the applicant.
As well as improving your general English you will learn industry specific vocabulary which will help you avoid any misunderstandings at sea.
Maritime English is the official language of the sea as declared by the International Maritime Organization (IMO).
Specific areas that are covered by this course include Standard Marine Communication Phrases (SMCP) as described by IMO – distress, urgency and safety communications, port operations, on-board communications and social interactions.
BMC Company offers learning Marine English:
in mini groups of 3-8 persons according to your level and position
lessons can be terminated during your work period and refreshed when you are back home
flexible timetable of lessons
individual approach
term of each level obtaining is 6 weeks (30 lessons)
lessons of 90 minutes
At the end of this course you will be able to:
speak more confidently and clearly in English
know how to use and pronounce English maritime communication phrases
communicate better with other seafarers / crew / mariners
prevent accidents
pass Marlins and CES with a discount for obtaining Marlins Test in our office.
More information is available in our office!